ReLIFE Manga Review
I love Slice of Life genre. Out of the dozens of SoL manga that I've read, very few of them really hits as hard as ReLIFE does. Not only it handles school life, hardships of grown-ups and not much spoken topics like depression and social anxiety but ReLIFE definitely handles them very well.

In this post I will be kind of giving ReLIFE manga review and along with it provide some additional information without spoiling any of the plot points.
What is ReLIFE ?
ReLIFE is a Japanese manga series written and illustrated by Sou Yayoi which was serialized on comico website. It got a TV anime adaptation under the same name which was done by TMS Entertainment Studious.

Some more additional details about manga:

Number of chapters : 237 (including extra bonus chapters)
Published: Oct 12, 2013 to Mar 16, 2018
Genres: Comedy, Drama, Romance, School, Slice of Life
Plot
The story revolves around Kaizaki Arata, a 27 year old jobless man who fails at every job interviews after quitting his job from previous company.
One day when he was returning home , he is persuaded by Yoake Ryou into participating in an experiment which involves him taking a pill which will turn his appearance to a 17 year old . Ryou also states that for the duration of the experiment (which is 1 year), all of Arata's expenses will be covered.
But there's a catch. He has to attend the final year of high school as the teenager. Arata being drunk ultimately takes the pill and thus it starts a journey of a 27 year grown man attending the final year of school.
Characters
Kaizaki Arata : Story revolves around him. How his actions and involvement with other students ends in teaching us many things is truly fascinating.

Yoake Ryou: He is in charge of supporting and monitoring Arata during the period of relife.

Hishiro Chizuru: She is in the same class as Arata. She is at the top of the class in studying, but is socially awkward and is trying to change that by making friends.

Kairu Rena: She is Arata's classmate and sits besides him. She is also a member of volleyball club.

Ooga Kazuomi: He is smart and always scores highest amongst the guys in his class. But he has hard time when it comes to sports.

Onoya An: She is a transfer student who joined Arata's class.

These are the main characters (Yes! this many). While it may seem that this series has too many characters and it would be hard to follow but that isn't the case with ReLIFE. Rather ReLIFE is one of few manga which has quite good character development. All characters grow and help each other grow.
Not only Arata shares his mature wisdom and helps in solving problems but teenagers as well teaches him some very important life lessons despite being 10 years younger than him.
Art
The art is another high point of this manga. I've ready many colored webtoons but I can definitely tell that author really put time and dedication. It looks so beautiful and appealing. Character designs, background art and facial expressions are always on point. Author sometimes put chibi versions of the characters, which adds to the uniqueness of the manga.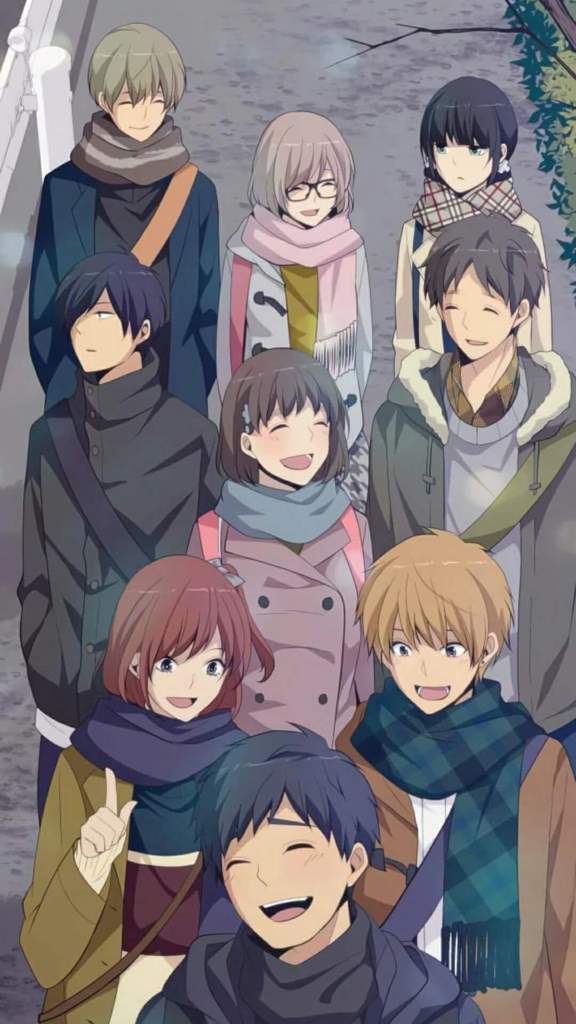 My Thoughts
ReLIFE makes reader think about their life and how have they been living it. It proposes questions like :

If you are given an opportunity to relive your school life, what would you do?
What would you do if you are given another chance to change how you have live your life ?

It starts out somewhat simple in stereotypical high-school setting but it develops into a really mature series.

Characters are relatable (which is the point of SoL) and their traits are unique and they have great chemistry.
Even though main point of this manga isn't comedy , it somehow never fails me to laugh out loud at times.

This manga is really easy to read and beginner friendly and can be recommended to people who have no/less experience in reading manga. Even for experienced reader this is a very nice read.
In conclusion this manga is 10/10 a must read. And if in real life I got a chance to do a ReLIFE I would gladly accept it.
Hopefully you liked my ReLIFE manga review. Please bear with any noob mistakes that I may have made in reviewing as I am very new to reviewing stuff.
Also please note that opinions are subjective. You may not like the thing others love and love things that others might hate. So take everything with a grain of salt.
If you want to support the author do check out ReLIFE on comico : https://www.comico.jp/articleList.nhn?titleNo=2
Also check out : https://wintrysphere.me/genshin-impact-change-install-folder/